From 'Two plays at upcoming M1 Fringe Festival exceed R18 rating'
Two performances at next year's M1 Singapore Fringe Festival will have to be changed or dropped after the Info-Communications Media Development Authority (IMDA) assessed that they contained excessive nudity.

In a statement on Friday (Nov 25), the IMDA said the two performances, Naked Ladies and Undressing Room, exceeded the R18 rating under the Arts Entertainment Classification Code (AECC) due to "excessive nudity which included scenes of audience-participants stripping naked, and graphic depictions of exposed genitalia"

…Naked Ladies and Undressing Room were singled out for criticisms in a Facebook post by a group called Singaporeans Defending Family and Marriage. The post questioned whether the festival was trying to pass off pornography as art.

Undressing Room, by Singapore dancer Ming Poon, is a one-to-one performance between the artist and a participant who will be challenged to bare all in a private space.

Naked Ladies is a performance lecture about the history of the naked female body by Canadian artist and academic Thea Fitz-James. She undresses during the performance and will be naked for large parts of the show.
In Ming Poon's Undressing Room, a random member of the audience is brought into a private room where the performer proceeds to silently take off your clothes. R18 or not, I can't imagine anyone participating in this awkward act while keeping a straight face, whatever your sexual orientation. The Singaporeans Defending Marriage and Family and its vivid imagination, however, proceeds to add 'exploring each other (sic) naked body' in its Facebook post, citing the work as an excuse for sexual assault. No sane artist will tear your clothes off for no reason and start, as Trump would say, grope you by the pussy, without risking jail. Incidentally, if people didn't explore each others' body naked, there would be NO FAMILY to defend.
More disappointingly, it took a complaint by a legion of prudes masquerading of saviours of humanity to prod the IMDA into making the cut. Would they have made the same call to Minsters to act on the 'porn disguised as art' cabaret show Crazy Horse back in 2005? Could this lot be anymore hypocritical about the harmful effects of sex and nudity on the national psyche – sharing a anti-nudity Facebook post in one tab, and discreetly surfing Pornhub in another? People like these are why we can't have nice things, and instead of visiting museums and festivals and enjoying provocative art, we're at home grilling the kids and promising them Nintendo DS consoles if they score more than 250 for their fucking PSLE.
But maybe it's not about drawing a line between art and porn, but between art and crazy nudie stunt. The educated person's Jackass if you will. Like stripping naked and asking an audience member to stare at you while you're both sitting on custom-made toilet bowls, for instance.
In 2011, T Venkanna charged his audience $250 for posing with him while he was butt naked at the Art Stage MBS. According to the Singaporean Defenders of all things good and moral, this would be as close to 'prostituting' the arts sector as you can get.
Or this extreme WTF-ish piece that involves plopping eggs out of your vagina onto a canvas. I hear there are shows in Thailand where performers do similar vaginal stuff with drink cans.
It's also arguable if you could classify snipping off your pubic hair for an audience as art. But maybe that's what art, especially those that involve icky private parts, is supposed to convey, to stimulate internal monologues like: Hey, is this art? How does this make me feel? What am I doing here? I paid money for this? How abstract is that pair of glasses on the gallery floor?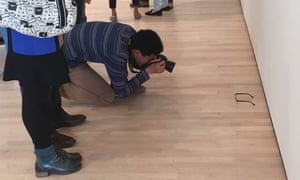 You'd figure anyone by the age of 18 years would be able to appreciate such conflicts without needing to see a psychiatrist for trauma. You'd think the smorgasbord of online porn would inure us from images of people unnecessarily touching themselves in all sorts of places in the name of art. But NOOOO, the IMDA still doesn't think we're discerning enough to handle such controversy, vindicating a Facebook group that also champions discrimination in the name of an illusory greater cause. This coming from a society where key leaders commit personal indiscretions despite their families, and bored married people pay for VPN tokens to sign up with still banned Ashley Madison.
Filed under: 2016, Art, Censors, Nudity, Sex | Tagged: Art, censors, Nudity, Sex |