From ' SIA says sorry for insensitive post on MH17', 19 July 2014, article in CNA
Singapore Airlines (SIA) on Saturday (July 19) apologised for its social media postings following the crash of Malaysia Airlines MH17. "We are aware that our Facebook and Twitter update on Friday morning may have come across as insensitive to some," an SIA spokesperson said in reply to queries from Channel NewsAsia. The post was in response to requests from customers who had asked for information about the airline's flight routes, the spokesperson said in a statement.

…Following the MH17 crash, SIA had posted on Facebook and Twitter a single-sentence message which said: "Customers may wish to note that Singapore Airlines flights are not using Ukraine airspace". It posted another message an hour later, which said: "Our thoughts are with the passengers and crew of MH17 and their families."

But the first post had attracted a storm of criticism from netizens by then, who called the post "inappropriate" and "opportunistic".

Facebook user Michael Reit said in a post: "How about at least acknowledging the terrible event and sending condolences to those families and friends involved instead of this cold, classless update?" Another user, Su Sripathy SIA, wrote: "Your posting was just tacky….and inappropriate at a time like this."
That's the problem with the 140 word Twitter limit. If SIA had combined the condolences and reassurance in a single post, it wouldn't have drawn such flak, though practically speaking the info on re-routing planes in flight, in my opinion, was more useful for the purpose of placating the loved ones of their airborne customers than expressing shock and sadness at the catastrophe. It was a close call for SIA still, with SQ351 just 25km away from the ill-fated MAS airline, and even if they wouldn't post it, executives in the boardroom must have been thanking their lucky stars that it wasn't their plane that was at the receiving end of a surface-to-air missile. SIA's post was 'cold' and restrained because it HAD to be. They're in the business of sending people to places, not wreaths and well-wishes.
Even if I had lost someone on that plane, I would understand the purpose of SIA's announcement. What I would find 'insensitive' and upsetting would be news of people escaping the tragic flight by the skin of their teeth, like 'Phew, thank God I wasn't on that plane', rubbing salt on my wound. Or jokes for that matter. Malaysia's own Chef Wan posted a 'distasteful' joke about a missing door of MH370 he found in Perth. American comedian actor Jason Biggs asked if anyone wanted to buy his Malaysian Airlines frequent flyer miles after the MH17 disaster. Until today, most of us only knew him as the guy who stuck his dick in a pie. Notorious parody Twitter troll SMRT (Feedback) couldn't resist either.
Then there's 'satirical cartoons', like this from the London Times.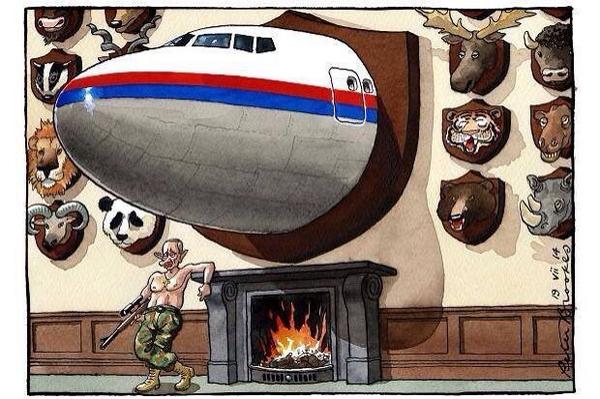 The downing of MH17 is also conspiracy theory fodder, with some reports suggesting that the CURE FOR AIDS could have been on that plane following the demise of 6 top AIDS researchers on their way to a major conference. TNP went for a 'spooky coincidence' angle, pointing to the number 7 as an 'uncanny' recurrence, ignoring the fact that there is no 7 in the number of people dead. Where's the public outcry here? Excuse me while I check the winning 4D numbers for this week (7949, 19 July 14). Gasp!
Of course, those people slamming SIA for being 'insensitive' and ignoring anyone else joking or garnering attention at the expense of hundreds of deaths are themselves doing absolutely nothing for the bereaved other than fighting for sympathy online. They're probably never going to take MAS for the rest of their lives, nor will they petition the international community to bring the killers to justice. In times like these, it's probably better to leave the condemnation and justice-seeking to the governments, and engage in more important things like spending time with your loved ones instead of complaining to the press about SIA's 'inappropriate' post.
Filed under: 2014, Singapore Airlines, Superstitions, Violence | Tagged: facebook, Funerals/Death, SIA, Singapore Airlines, Superstitions, Violence |