From 'URA sees red over graffiti art on shophouse', 24 Sept 2012, article by Jermyn Chow, ST
GRAFFITI on the wall of a shophouse in Haji Lane may wow visitors – but building conservationists are not impressed. The Urban Redevelopment Authority (URA) has raised a red flag over the paintwork as not meeting the stipulated guidelines for conserved shophouses. The artwork was commissioned by the owner of the neighbouring Blu Jaz Cafe, Ms Aileen Tan, her business associate said.

…The new colour guidelines were released on the URA's website in January. It also discourages the use of neon paints and murals on shophouses. A URA spokesman said that since the guidelines were released, four owners had been told to remove paint covering the original facade tiles of their shophouses. She declined to say which shophouses these were, but said that all had complied.

URA can impose a fine of up to $200,000, a jail term of up to a year, or both, if the guidelines are breached. Said Mr Kelvin Ang, URA's deputy director of conservation management: "We do have the power to take enforcement action, but the paint colour on buildings can change over time so we have chosen to approach this matter with a lighter touch."

He added that the agency will act only when the paint colours are of "great concern" or "downright objectionable".
According to the Guide on Conserved Shophouses, owners are encouraged to use 'traditional' colour schemes in the painting of their houses to retain that distinct 'heritage character', traditional meaning a 'pastel' hue. The Haji Lane House of Horrors was in fact cited as a negative example with its 'strong patterns or mural obscuring the architectural features of the building'. Some call it 'graffiti art', but to me it looks like the facade was attacked by a berserking mob of spiky-tailed Pokemons, though anyone could still identify it as, well, a shophouse with windows. Except that unlike the 'cleaner' houses, you can't tell if they're 'French windows with internal balustrades' or 'casement windows with timber shutters'. You'd know if a shophouse is 'authentic' when historians of architecture wax lyrical about its intimate window furnishings like how connoisseurs describe the taste of vintage wine, or the gearbox of a vintage car.
The URA's guide, however,  is loaded with fuzzy terms, like 'unique features', or how a 'traditional' design 'lends character' to the neighbourhood. Even their spokespeople say they would clamp down on designs that rouse 'great concerns'. I would consider a concern 'great' only when these stark, strong colours induce convulsions in epileptics, or 'downright objectionable' if it says 'Call XXX for a good time'. URA is also rather picky on how one should place a signboard, letterbox or even install the air-con unit. Sometimes, the difference between what's 'traditional' and what's 'incompatible' with heritage is just a matter of hue.
Here's a quick test, guess which green house is OK and which one is NOT.
A)
B)
Give up yet? The TRADITIONAL house is B, silly. Can't you tell the difference between Peranakan Pastel and Dreamworks Neon Shrek?
Any proud Singaporean would give credit to URA's conservation efforts, and sometimes a little nitpicking enforcement is necessary to make sure that cultural artifacts are not bulldozed to make way for gaudy Capitaland Malls. But a HUE and cry over a mural that's too cool for (old) school? Come now, there is already an impressive list of sites being preserved, from Kampong Glam (which encompasses Haji Lane) to Rochester Park, varying in styles from the Beach Road 'Art Deco' to 'Black and White' colonial type to the 'Transitional' to 'Late' Shophouse patterns of Geylang. Though places like Tiong Bahru and Rochester have been raided by dining establishments, Haji Lane is 'unique' with its 'bohemian hipster' boutique vibe, and with already so many shophouses of the same 'typology' being preserved elsewhere, perhaps the authorities could grant some exceptions for this 'indie fusion' style incorporating 'street art' with 'rustic charm', an 'attitude' that would blend in rather nicely with its backpacker-cool quaintness.  Haji Lane is far removed from the dingy alley of the past, but at least some skeletons remain to remind us of its humble Arab beginnings, not to mention garner international rave reviews for its off-the-beaten-track trendiness that makes it unmissable. Even superstar Gwen Stefani stopped by during her tour, and if you've got the original Hollaback Girl checking you out, you know you're doing something right.
If giving these old fogie shophouses a snappy 'tattoo' is what it takes to keep the little curiosity that is Haji Lane abuzz and ALIVE in all its quirky, laid-back hipness without losing too much of its 'old world charm', then the URA should afford to 'close one eye' to architectural anomalies like the bizarre blue house at the end of the street. So, what, or who resides in this mystery building? Here's a closer look: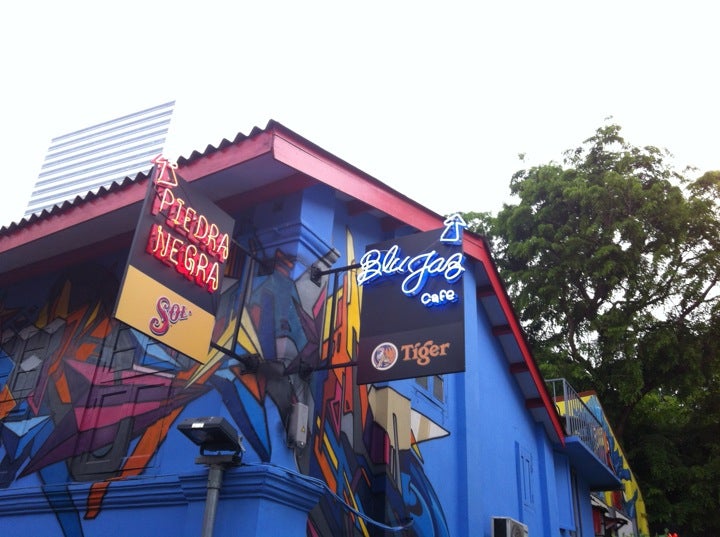 Whatever the outcome, this piece of news will inevitably draw more locals and visitors to the area to capture for posterity the Blu Jaz graffiti while it still lasts, before its slate gets wiped clean by the heritage Nazis from the URA, reverting to the original style that our fathers, grandfathers and tengkus could relate to. Why stop at erasing graffiti off the walls, how about chasing out any tenant who isn't selling batik, Persian rugs, falafel or oil lamps in line with the cultural 'theme' of the street? This is probably an exaggeration, but taking a shot of this shophouse is like bringing home a piece of the Berlin Wall. And I have a craving for Mexican food all of a sudden.
Filed under: 2012, Architecture, Art, Bureaucrats, Nightspots, Public works, Tourists | Tagged: architecture, Art, bureaucrats, graffiti, nightspots, tourism, Tourists, URA |